Norfield Introduces 2400ASR Auto Double-Prep Strike Router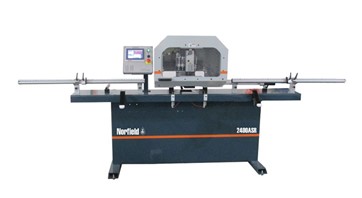 Norfield introduces the 2400ASR Auto Double-Prep Strike Router, which is the latest product in a family of products manufactured for interior and exterior doors. The 2400ASR machines the strike jambs and ball catch head jambs on residential doors.
The 2400ASR prepares a double strike jamb every three to four minutes or a single strike jamb every four to five minutes. Due to its high-speed cycle, it can be included in the production line or as an independent, high-volume workstation. It machines flat single or double rabbeted and split jambs, and the strike plate can have full lip, no lip or a T-strike. It also provides machining for double full lip for a ball catch.
"We are pleased to offer this new system to our customers," says Michael Barney, VP – sales & marketing. "The 2400ASR is a product that our customers were asking for and one which provides the speed desired and safety for high throughput."
The system operates with a graphical touchscreen, and the high frequency motor is designed to be quiet, durable and long-lasting, according to a news release. Other features include a heavy steel enclosure and double hand sensors.
The 2400ASR can accommodate a strike plate from 1/2 inch to 8 inches. The system can hold a 70- to 96-inch jamb with a width of 2 1/2 inches to 10 1/2 inches. The jamb thickness can be 3/8 inch to 1 1/2 inches. Optional features include a vacuum system.