Novagard Introduces Portable Glazing Sealant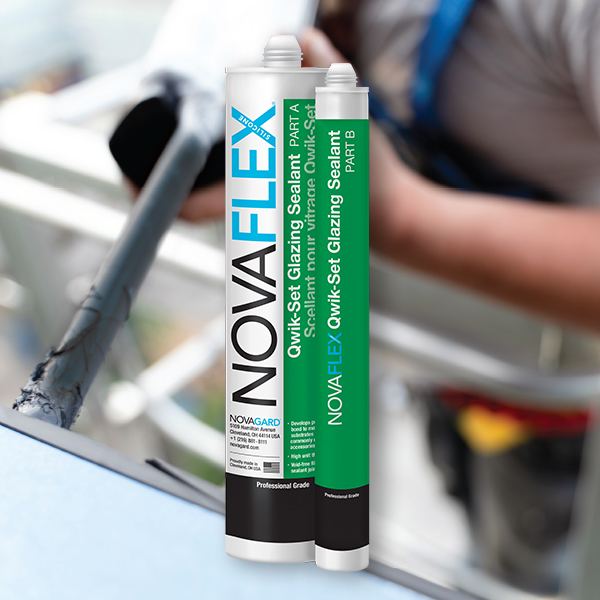 Novagard, a woman-owned silicone manufacturer, has introduced a portable version of its Qwik-Set glazing sealant. Additional product innovations for the OEM windows and buildings systems market are expected to follow.
Building on the success of NovaFlex Qwik-Set Glazing Sealant, Novagard formulated a portable version designed to make hand glazing, field glazing and field installation faster, especially useful in tight spots and for repairs. NovaFlex Qwik-Set Portable Adhesive and Glazing Sealant is a two-component, neutral cure silicone that rapidly builds adhesive and elastomeric strength. With this new, fixed 2:1 ratio available in a dual cartridge, it can be applied using a portable pneumatic gun for quick repairs in the field or where glazing tables aren't an option.
"This is a game changer for installers in the field," says Joe Borak, Novagard VP of building systems, foam seal, hybrids, leisure-pool & spa. "The sealant cures quickly with a 10- to 15-minute snap time, giving installers the confidence to replace windows without fear of the glass shifting or silicone transfer."
The two-part silicone sealant achieves a tensile strength of over 15 psi after 20 minutes and 55 psi after 30 minutes. Qwik-Set Portable Glazing Sealant develops primerless bond to most substrates and commonly used accessories, and is AAMA verified for strength and adhesion.
"Our customers now have ultimate flexibility because they can choose from two different formats of this product. The original formula offers a variable mix ratio, which is great on the plant floor. By adjusting the mix, you can speed up or slow down the cure time, depending on the size and complexity of the windows you're producing that shift," says Julio Atenco-Sanchez, Novagard manager of R&D. "The variable ratio product presents practical challenges for use in the field. The convenient packaging of our new fixed 2:1 ratio product makes hand glazing on intricate designs or field installations a snap. You can construct a window or replace the glass without worrying about it shifting in the frame. We're excited about the possibilities this opens up for contractors and installers."