RESNET Releases 2023 Statistical Abstract Trends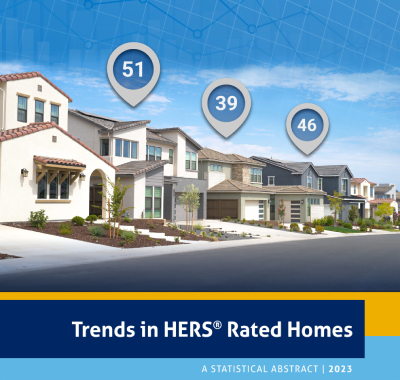 The Residential Energy Services Network, or RESNET, released its annual statistical abstract "Trends in HERS Rated Homes—A Statistical Abstract 2023" that examines the trends across all homes that have received a HERS rating in 2022.
Highlights of the report
129% increase in annual HERS ratings from 2013 to 2022.
Just shy of 338,000 HERS ratings in 2022 (80% single-family/20% multi-family).
There have been year-over-year increases in the number of HERS ratings for a decade.
Massachusetts is number one with 82% of new homes receiving a HERS rating; Indiana comes in second with 68%.
Looking at the number of total HERS ratings, Texas comes out on top with over 81,000 ratings.
Eight states achieved 50% or more of new homes HERS rated.
Focus of the report
The report looks at broad national-level trends in the number of HERS ratings and average index scores; the state-level trends, including the total number of HERS ratings in each state and the percentage of new homes that received a HERS Rating; and the trends of HERS ratings in cities, including the top 25 cities for single-family and multi-family ratings. The report also focuses on individual trends across HERS ratings, including a breakdown of the basic characteristics of rated homes and individual building components. Various building envelope components are covered, as well as air leakage rates, equipment efficiencies and the use of solar on HERS-rated homes.
Window trends in HERS rated homes
Window U-value and SHGC
Data on window U-values shows that 51% of windows have a U-value between 0.31-0.35 for single-family homes. Window solar heat gain coefficient, or SHGC, shows a similar trend with about 57% of windows having an SHGC of 0.2-0.25.
Envelope Air Leakage Rates
In 2022, 80% of all single-family and 50% of all multi-family HERS rated homes had an envelope leakage rate of between 2 and 5 air changes per hour at 50 Pascals. Impressively, a combined total of more than 27,000 single-family and multifamily homes had an air leakage rate of less than 2 ACH50.