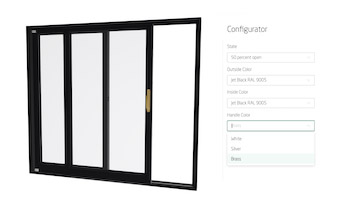 One of the biggest challenges in today's custom building materials market is the ability to build and show products in real time. It's hard to give buyers the confidence that they're purchasing the perfect window or door without showing it to them. 
Threekit is here to help. 
Want to increase online sales by up to 40%? Enable 3D configuration and customization that allows buyers to seamlessly create, view and buy a custom product in real-time
Want to reduce your cost per sales interaction by 85%? Implement interactive 360-degree product views to allow customers to inspect products more thoroughly 
Want to create 11x the purchase intent you have today? Turn on our augmented reality capability and let buyers place configured doors and windows in their space
 
To find out how you can make 3D technology work for you, schedule some time with the experts at Threekit.