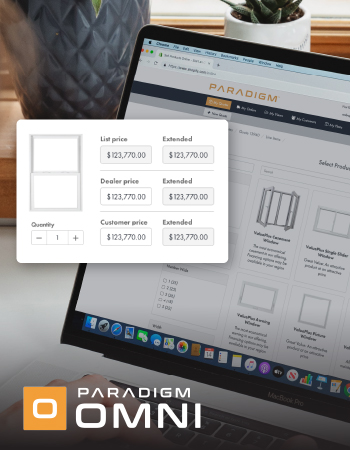 Window and door manufacturers and dealers consistently rank Paradigm Omni™ number-one among quoting and configuration software. The solution's speed, simplicity and guided shopping capabilities allow them to spend less time managing technology and more time growing their business.
Paradigm Omni has the power to quickly create more accurate and personalized quotes. You define the configuration and quoting experience to fit your customers' needs, by creating precise visualizations of mulling combinations and grille patterns, displaying marketing materials, tailoring pricing and product descriptions, and more.
And when it comes to accuracy, integrated tools ensure quotes are on target every time, and self-service access to ongoing quality testing helps you catch profit-stealing catalog errors before they reach production.
Bottom line: If you're looking for a quoting and selling experience dealers will love, combined with the technology and tools that ensure precise quotes every time, take a closer look at the highest-rated quoting solution in the Industry. Paradigm Omni makes configuring and quoting complex building products fast, accurate, and easy. Schedule a demonstration and see for yourself.