3 Trends in Manufacturing HR
How COVID affected recruiting and retention, and how one company is staying on top of the trends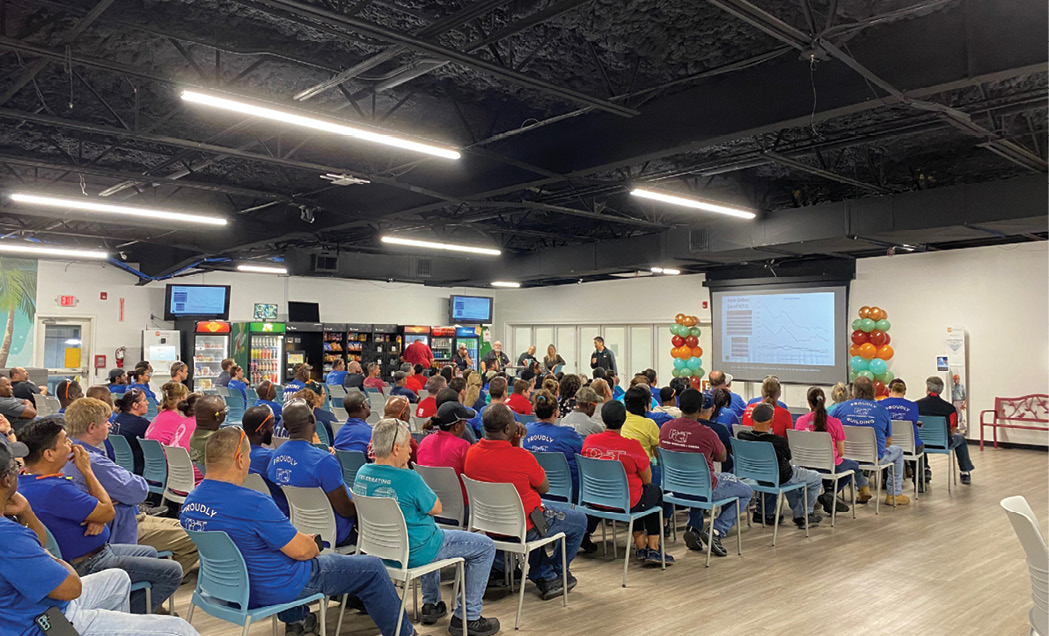 The COVID-19 pandemic had major implications for human resources teams around the globe. In the manufacturing sector specifically, we've had to pivot tremendously in our recruiting and retention efforts to stay competitive in attracting and keeping top talent. Three top trends that continue to evolve in the manufacturing HR realm are managing the desire for hybrid or remote work, an increased focus on employee experience and individualization, and the utilization of technology. Here, we take a closer look at each of these trends.
Hybrid and remote work
When recruiting, a remote or hybrid work option is a top request from candidates. This obviously can't be offered to manufacturing team members who need to be onsite for production lines. Still, it is something that office position candidates are asking for. Offering remote or hybrid work to new candidates is sometimes the deciding factor that encourages them to come work for a company. We've had to rethink every office job, looking at each specific position and the feasibility of hybrid or remote work with travel versus relocation requirements, while also maintaining a balance between roles that can be flexible and those that need to be onsite every day.
Employee experience
Emphasis on employee experience is the second trend we've seen. With so many companies competing for the same candidates based on compensation, the employee experience has become more critical in setting a company apart. It's imperative to ensure every connection, from recruitment on, is positive. Existing team members are also looking for this outstanding employee experience. At PGT Innovations, managers and leaders do more than direct a team and focus on productivity. They develop humanistic relationships with direct reports to focus more on the emotional wellness of their teams.
To that end, another one of the most important trends right now in HR is individualization. We're all very different, with different backgrounds and cultures, which creates crucial diversity within our organization. People want to be seen and treated as individuals and should be regarded that way.
Some team members perform at higher levels than others. Some people want to be managers, some don't. Some are retiring soon, and some are new to the workforce. Knowing all these details on what makes each person unique is the definition of what talent management is and helps us create a positive employee experience.
As leaders, it also helps us identify individual goals and present relevant opportunities. Embracing a more collectivist approach to everything that makes a person who they are ensures that team members go where they want to go. Creating an improved employee experience requires us to lean more heavily on technology to minimize administrative tasks so our leaders can devote more time and energy to human interaction. This is definitely a good thing, but it's also a learning curve and a whole new skill set for many leaders.
Technology
This leads to the third major trend in our industry: using technology to recruit and retain talent. Keeping up with technology while managing risk, primarily from an organizational privacy standpoint, is a significant hurdle for many organizations.
For example, companies can use AI to create a job description in minutes, but it can also create unknown risks that many of us are still learning about. There are, however, many benefits to leveraging technology, like using it for data collection so an organization can run metrics and understand the "bench strength" it currently has. This also helps identify employees' key skills and understand things like talent turnover. Additionally, technology can help optimize current talent by identifying individuals who may be able to transition into new roles based on their skill sets. It also helps make informed decisions for succession planning.
While things are constantly changing, some things stay the same. Innovating in the business applies to HR as well as manufacturing and products, and we strive to do so while navigating the many challenges and trends along the way.