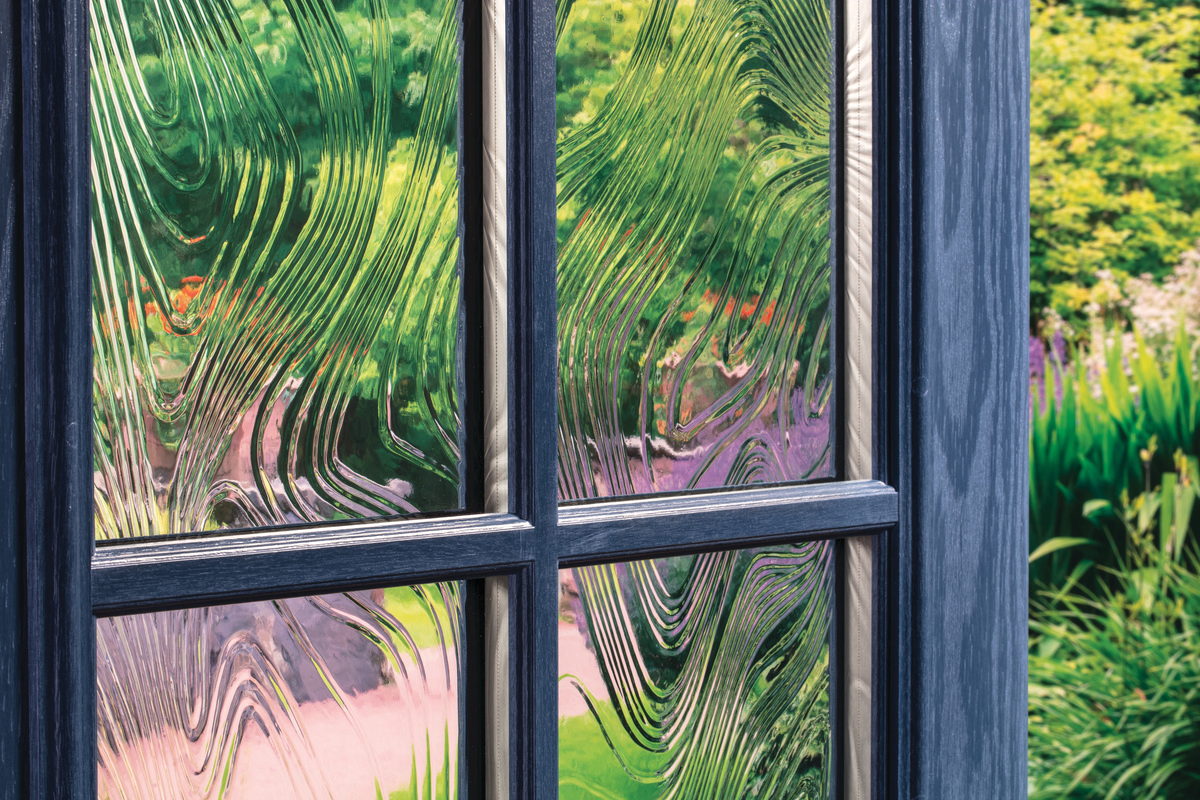 There are a number of residential architectural styles and window designs that can be complemented and enhanced with cost-effective Simulated Divided Light and Grills Between Glass doorglass options in place of True Divided Light. Offering simplicity, clean lines and simple shapes, these versatile glass solutions uphold traditional styles and blend well with windows while at the same time adding a touch of modernism to more contemporary home designs. The following provides an overview of some home styles that commonly use divided light as an architectural element.
Cape Cod
As its name suggests, the Cape Cod style home is commonly associated with New England, where 17th century colonists first built these simplistic homes featuring flat, symmetrical facades. Homes typically had a centered front door with two multi-pane, double-hung windows on each side, flanked by shutters to block strong winds coming in off the ocean.
The design was originally a homage to the low, broad, unornamental style of building in England, but adapted for the region's heavy snowfall to feature pitched, gabled roofs. Though the floorplan has been expanded and adapted over the years, today's homes still feature the defining characteristics of the earliest Cape Cods: symmetry, steep roofs and shuttered, divided light windows.
Tudor
Like the Cape Cod, the Tudor style home is inspired by old English architecture. However, the inspiration is more decorative than practical, and plays on design elements from Renaissance and Gothic architecture. This includes decorative exposed timbers and vertical lines used wherever possible, including within the windows. Tudor windows use multiple panes of square-cut glass, often positioned diagonally within the frame in contrast to the bold straight lines created by timbering.
The clean lines that define Tudor homes are also often contrasted by extraneous design details, including elaborate masonry chimneys, irregularly-shaped rooms and embellished doorways, or more subtle line "breaks" like the use of transom windows, which use a thick crosspiece to separate a main window from a smaller window above.
Craftsman
Craftsman homes were first designed in the "arts and crafts" architectural movement, which followed a trend of only using elements that were useful or beautiful and favored hand-crafted, unique touches. Though Craftsman homes are known for individuality, there are common elements that define the style, including wide covered front porches, double-hanging windows with divided light features in the upper window, exposed wooden structural elements and interior nooks, window seats and built-in storage.
Prairie
The Prairie style was one of the first uniquely American architectural styles, popularized in the late 19th century American Midwest. Complementing the region's flat landscape, these homes are typically long, flat and heavy on horizontal lines, often designed with rows of windows on the exterior and built-in shelving and seating inside. Prairie grid windows take on a more untraditional style of divided light, with small square panes in the corners, long lites along the top, bottom and sides, and a larger pane in the center.
Farmhouse
The modern farmhouse style, which seems to dominate American home and design blogs, magazines and TV in recent years, is beloved for its charming, rustic design that combines sleek, contemporary design with a cozy farmhouse aesthetic. Use of multi-paned windows, lap or board and batten siding, natural textures, gabled roofs and large porches pay tribute to traditional farmhouse architecture.
More modern elements are brought in through light color pallets—many homeowners use an all-white aesthetic—and industrial lighting. Some of those lighting fixtures may not get much use, however. Modern farmhouse styles favor an abundance of windows and moveable glass doors to allow in natural light and provide a connection to the outdoors.
Urban Loft
Old commercial spaces-turned apartments have gained popularity in urban neighborhoods. The urban loft is characterized by a large, open floorplan with minimal internal walls that gives it an industrial aesthetic. Other defining characteristics include high ceilings, exposed beams and oversized floor-to-ceiling windows. The large windows allow light into all parts of the space, including any mezzanine or upper-level living areas, but were originally installed before single panes of glass were produced large enough for the frame. Though the original glass may have been replaced, the multi-pane look has stood the test of time.
Related Reading