With customers collectively spending more time at home than ever before, it makes sense that many are carefully evaluating how their home looks, feels and functions. After all, "spending more time at home with family, working and learning remotely, being more mindful of the relationship between indoors and outdoors—all of these experiences have implications for how we design (our) houses," according to Elle Décor in an article on the future of post-pandemic residential design.
Given the emphasis on creating spaces that are as functional as they are aesthetically pleasing, many homeowners recognize the critical role doors can play in a home. Much more than a mere physical separator of rooms, doors can empower homeowners to reimagine open floorplans, create statement-making entrances and accommodate the ever-expanding functions of a home. Against this backdrop, many homeowners are looking to door, millwork, hardware and lumber dealers, as well as their local home improvement retailer, to recommend decorative, high-value options that can turn once mundane entrances and doorways into personalized living spaces.
To meet this moment and drive door sales, consider recommending one these three emerging door trends to your next customer.
1. Sliding barn doors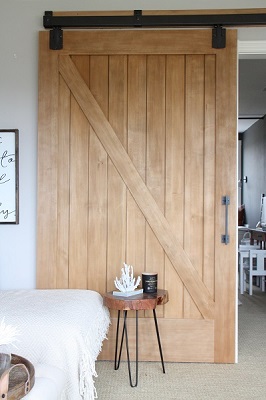 For years, open-concept floor plans have been popular. But this long-trending layout is not always functional when it comes to supporting the needs of multiple family members. With so many activities happening under one roof amid stay-at-home orders, family homes have had to adapt to incorporate new functionality. "Instead of having virtual school, playtime and remote work happening in the same shared space, people now want to be able to close doors to give each person their own space," reports Forbes in its summary of significant ways the pandemic has changed home design. The article continues to address the need for "rooms that can easily transition, which has boosted the popularity of modular and multi-functional furniture and décor."
A creative design solution to forge sought-after privacy across an open floorplan, sliding barn doors on barn track hardware can support flexible, transitional living spaces. In application, sliding barn doors can close off an open kitchen or living area.
Barn doors are no longer exclusive to the in-demand "modern farmhouse" style. While the most popular barn door applications still resemble an actual barn door, virtually any door can be paired with barn track hardware.
2. Interior Dutch doors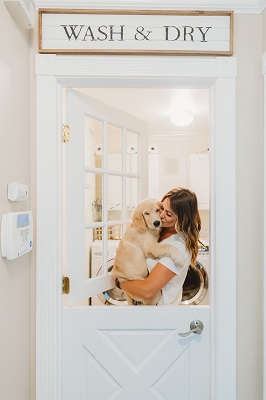 Dutch doors are traditionally seen at the front or back of a home, but many homeowners are bringing Dutch doors inside and enjoying the same corralling functionality in the kitchen, laundry room and home office. The bottom half of the door can remain closed to keep children and pets from making a grand escape, while the top half remains open to ensure adults can listen to what's going on in the adjacent room.
Customers with a penchant for natural wood grains can stain a wood Dutch door. Doing so will help the door "pop" against (what is typically) painted casing, trim and millwork. A Dutch door can also be painted. 
3. A natural wood front door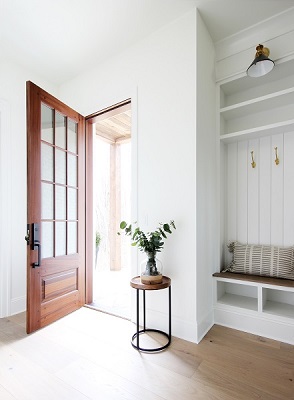 Many homeowners are gravitating toward products and furnishings that pay tribute to biophilic design by incorporating neutral, earthy tones, organic materials and natural wood grains, which natural wood front doors play to.
Natural wood front doors enable homeowners to complement a wide range of architectural styles, and can be designed with any type of wood. Cherry and walnut mimic the look of high-grade furniture, while exotic woods like sapele mahogany have distinctive patterns. Woods such as knotty alder support a casual, rustic look, while Douglas fir and Western Hemlock offer a timeless appeal. With advanced manufacturing techniques, proper protection and periodic maintenance, today's exterior wood doors can uphold their beauty and last for generations in many types of climates and weather conditions. 
Meet customer preferences and drive door sales
With attention paid to these emerging door trends, dealers can offer customers a "wow" door, meeting demand for functional, beautiful living spaces that evoke a comforting sense of home. In turn, dealers can drive door sales and maximize margins in 2022 and beyond.