Next-Gen Tech to Meet Energy Goals
Transparent solar and VIGs are among the window technologies poised to take the fenestration industry to the next level of energy efficiency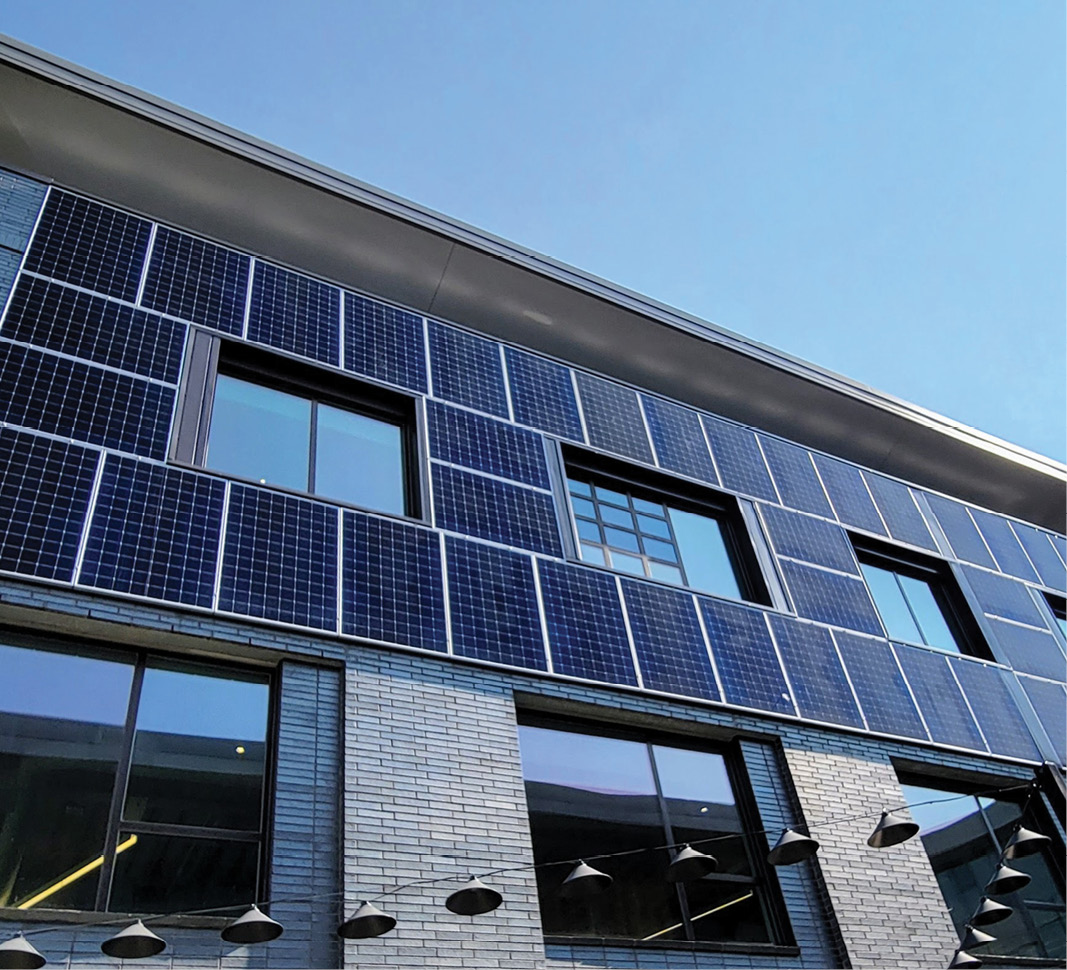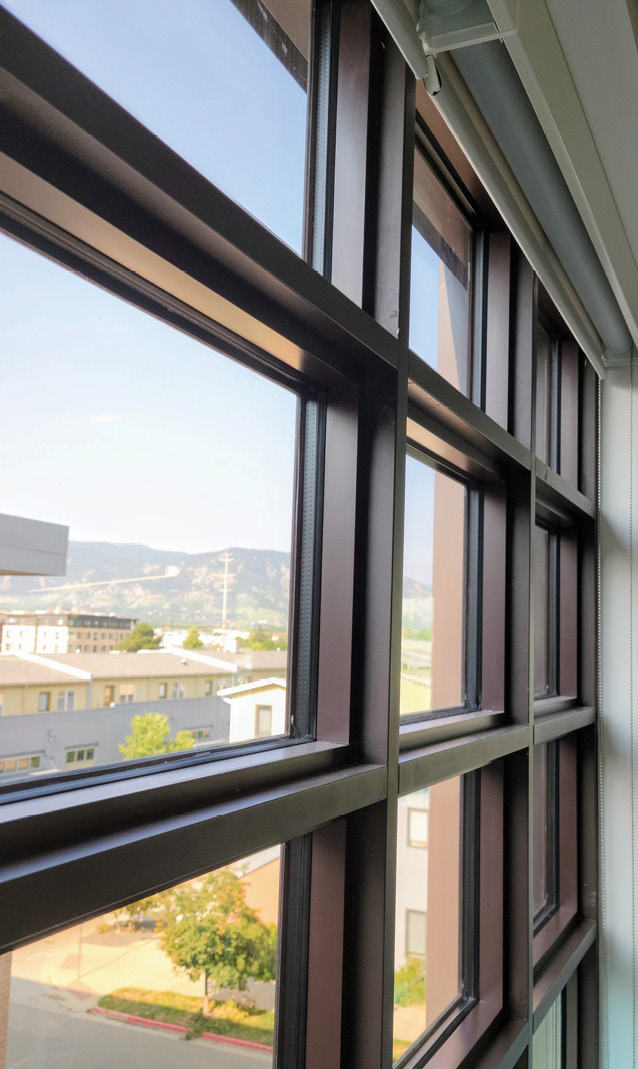 According to this year's Industry Pulse report, published in the January/February issue, companies are taking more note of and plan to invest in technologies that will enhance their products' energy efficiency. The industry is rapidly developing and testing new technologies that can make windows and doors tighter and more functional elements of a home's envelope.
Transparent solar
Aesthetics have long been a limitation to traditional solar's application, largely relegating the panels to rooftops. Ubiquitous Energy is seeking to disrupt the solar market by pioneering a transparent photovoltaic glass coating that captures the sun's invisible rays and converting them to power, thereby allowing all visible light to still pass through a window.
Ubiquitous Energy CEO Susan Stone explains the company developed a low-emissivity coating that can be applied to any window. The company designed its technology to fit into the existing supply chain. For example, a window manufacturer will purchase its IGUs, which will be manufactured to the correct size and with the transparent solar coating already applied. Then, the IGU would ship to the window manufacturer, who would frame the window before installing it in a home. There are just a couple pigtail wires coming off the corner of the IGUs that harvest the electricity, she says.
Stone notes how the company sees it as "critical" to ensure the window is installed the same way as any other window and doesn't disrupt the trades. "Everybody gets to do everything the same way they've always done; we're just another piece of the chain," she says. 
This technology could enable greater smart window applications, says Stone, since the glass is making the electricity, which is stored in a small battery the homeowner can't see. "Our windows have been our apertures to the world," she says. "There are so many features that should be at our windows. This opens up a new world of what a window can do for us instead of just letting us look through it and giving basic thermal benefits."
Veeral Hardev, vice president of strategy, explains that even a few percentage points of power conversion efficiency could enable power for functions like automated venting, closing, opening, security cameras, motion detection, etc. Right now, he cites efficiencies of about 3 to 5 percent. Traditional solar has about 15 to 20 percent efficiency, but Hardev notes they aren't trying to compete with traditional solar; rather, this technology is complementary. 
Transparent solar efficiency will only grow, however. "We have a pretty long pipeline in terms of our R&D where performance will be much higher," he says, noting some testing has resulted in efficiencies close to 10 percent. 
Stone says now is an "exciting, pivotal moment for climate tech overall, but especially for increasing the efficiency of our homes and buildings." She notes a "real shift in action from talk" in regard to actionably increasing energy efficiency. "There's been a really dramatic shift in focusing on building with more efficient materials, making our homes smarter and working for us, and decarbonizing our commercial portfolios."
Andersen Invests in Ubiquitous Energy

In January, Andersen Corp. announced a strategic investment in Ubiquitous Energy. "Ubiquitous Energy's transparent photovoltaic technology is revolutionary and represents a new horizon for the fenestration industry," says Jay Lund, chairman and CEO, Andersen. "Andersen is excited to support the work of Ubiquitous Energy to bring solar power into homes and commercial buildings through windows and doors, creating new opportunities for energy efficiency, cost savings and smart home integrations that will both delight homeowners and contribute to a healthier planet."
Thermal performance through VIGs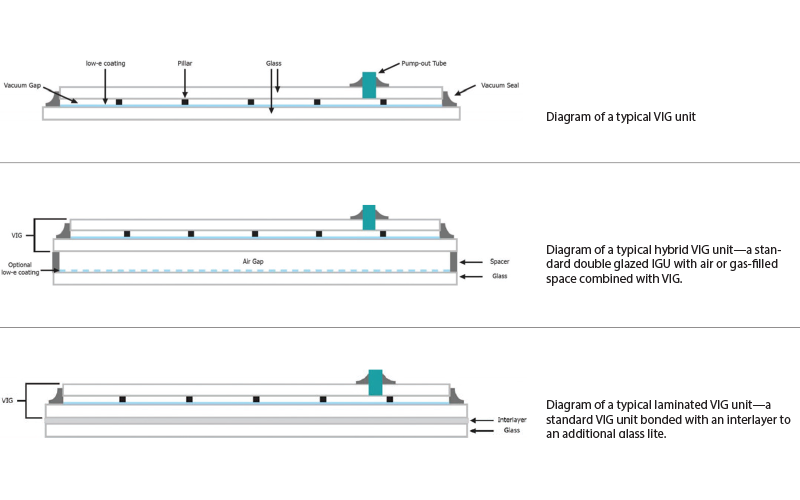 Vacuum insulating glass provides similar or superior thermal performance to conventional double glazing in the thickness of a single glass lite. The gas in the space between two lites of glass is extracted to create a vacuum, rather than filled with air or argon. The thin profile can be installed in new construction, or restoration projects.
VIG comprises two glass lites, typically 0.12 to 0.23 inches thick, that are hermetically sealed around the edges. The air between the two lites is extracted, either through a small pump-out tube or by using a vacuum chamber. The glass lites remain separated by pillars (also called microspacers), which are made of high-strength material such as metal or ceramic and may be arranged in various patterns across the surface of the glass. The pillars may be glued in place or held in place by the glass. 
Once a vacuum is made, the edges (and the pump-out tube, if applicable) are sealed to create a permanent vacuum. Some VIG units may include a getter, a component in the VIG that continually removes residual outgas molecules to help maintain vacuum over time. 
To reduce radiative heat exchange, a low-e coating can be used on one of the internal surfaces of the VIG, typically surface 2. 
Matching flatness on both lites of glass is critical to successful VIG fabrication to keep the array of pillars in place. Keeping the pillars in place prevents the lites from touching to avoid creating a thermal conduction pathway that could reduce the performance of the VIG.
VIG can be installed as a monolithic lite or as part of an IGU. Other applications include hybrid VIG and laminated VIG. Double or triple insulated units using VIG to replace individual glass lites is also possible for future development. 
Download the National Glass Association's Glass Technical Paper about vacuum insulating glazing at glass.org.