Replacement Windows in Action
Case studies show how replacement windows transform homes
On Replacement Window Demand

We're seeing healthy demand across the board on the replacement side. Last year, it was no surprise home improvement was up significantly, but we were seeing a lot of DIY projects. Now we're seeing larger projects kicking off. Homeowner savings are up considerably from not going on vacation or going out to eat, and we're seeing signs of them putting that money into heavier and more expensive home improvement projects. That's translating into window replacements. The importance of windows seems to be growing. We're seeing more favorable views of window replacements and the importance of that. There's more awareness around it. — Chris Beard, strategic insights manager, Pella Corp.

Plum Street Residential Renovation
San Diego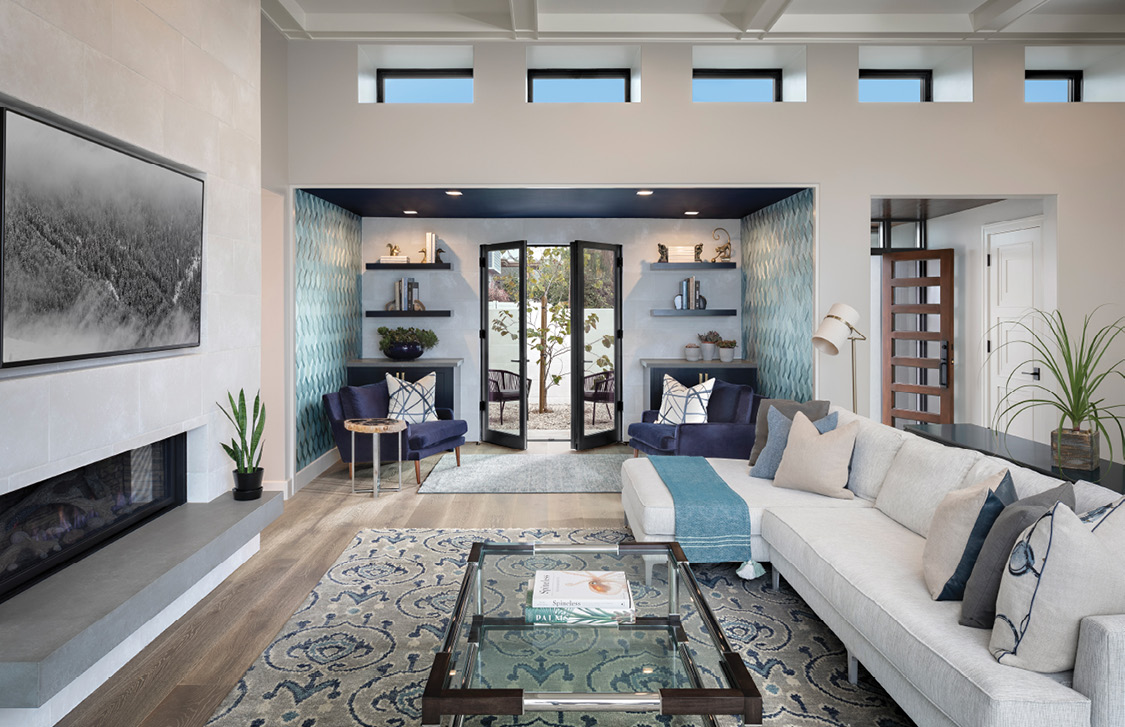 Project Team 
Architect, Will & Fotsch Architects Inc., La Jolla, California; Builder, Royal Home Remodels Inc., Alpine, California; Interior decorator, Tidal Interiors, La Jolla, California; Kolbe dealer, Dimensional Millwork Inc. (DMI), San Diego
Window Product 
Kolbe VistaLuxe Collection, including sliding windows, casements, direct sets, awnings, French doors, a swinging door, sliding doors and multi-slide doors.
The Project
This renovation was designed for casual entertaining while taking advantage of the climate and San Diego skyline. It took just 12 months to complete the renovation, construction and finishes on the 3,700-square-foot property, originally built in the 1960s.
One of the goals of the remodel, which involved re-imagining the existing floor plans, was to frame views. The architect notes the "connection of the frame detail between the doors and the windows provides a consistency throughout the house. It gives the windows a distinctive look and feel."
Two multi-slide doors on the deck connect the great room to the dining room and kitchen. Headers in the dining room and kitchen had to be reframed to accommodate the 8-foot height of each door, each of which is six panels wide, opening in the center with three panels on each side.
The windows and doors, with features such as thermal spacers and various glass choices, contributed to meeting California's Title 24 Building Energy Efficiency Standards, according to Kolbe.
On continuing opportunities

The industry as a whole is seeing more opportunities for residential replacement windows. The pandemic has created an environment where we all are spending much more time in our homes. This has fueled the desire for homeowners to remodel and update their homes to help create a more enjoyable and comfortable living space. Replacing items, such as windows, can have many benefits. New windows can provide better ventilation and natural daylight, but they can also enhance comfort while conserving energy. For the many that work remotely from home, new windows can help block out outside noise as well. I believe the two most important factors when it comes to replacement windows are the ability to customize and the availability of options.  — Nick Pel, displays and product information manager, Kolbe



Kitchen Remodel
Los Angeles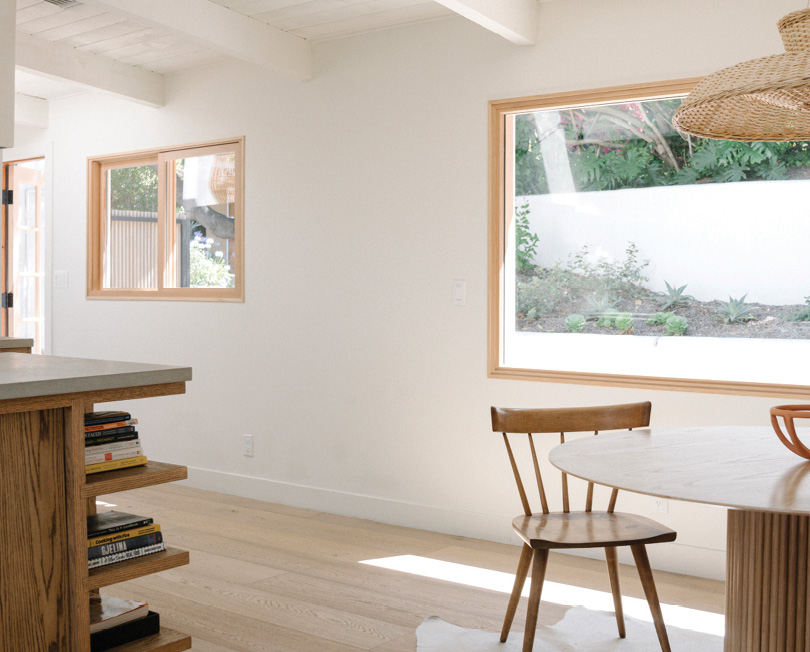 Window Product
Marvin Signature Ultimate Picture, Marvin Signature Ultimate Glider, Marvin Signature Ultimate Multi-Slide Door
The Project
The home's existing windows were craftsman style and didn't match the rest of the house so when the homeowners decided to remodel the kitchen, they focused it around well-being, which involved introducing as much natural light as possible and bringing natural elements into the design of the home. A picture window, which brings light to the kitchen table corner, and glider with bare wood frames fit into the existing window openings. And, a multi-slide glass door was "one of the biggest game changers" for letting in natural light, according to the homeowner.
The Two Flat
Chicago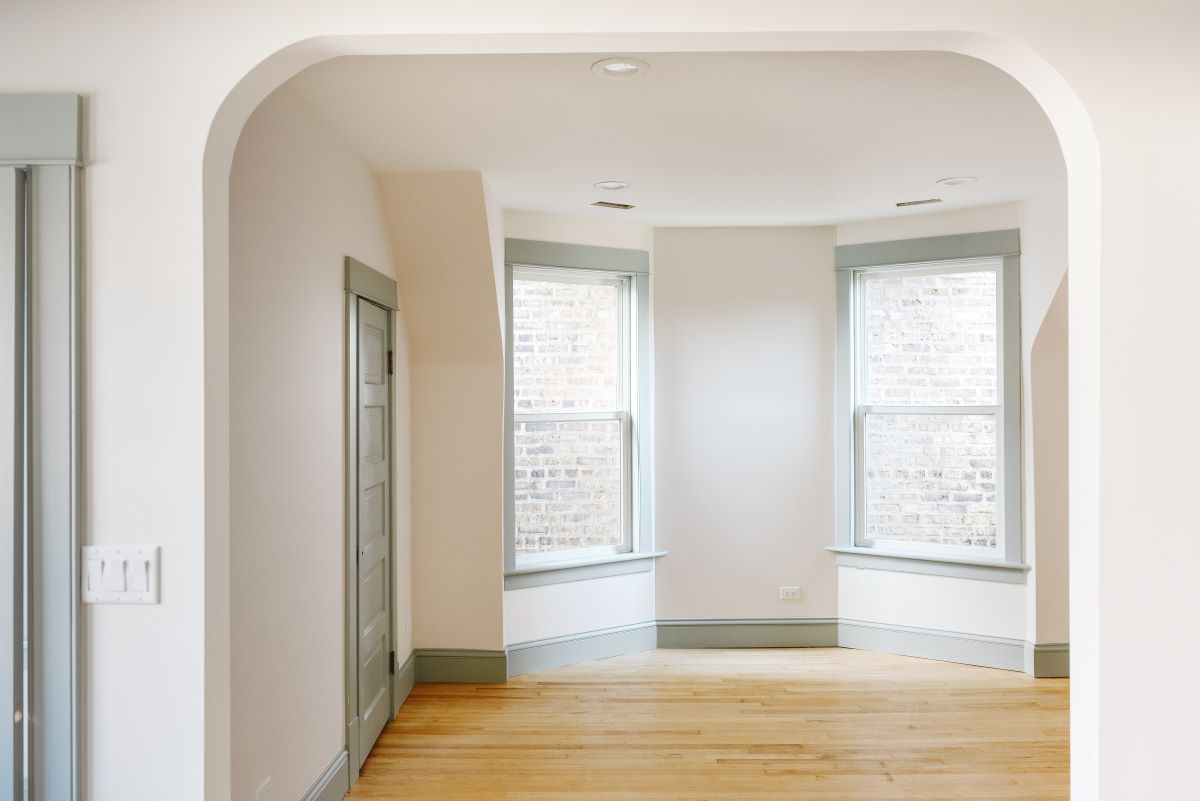 Window Product
Andersen 100 Series windows and 100 Series insert window
The Project
The windows in this 1890 two flat in Chicago's Logan Square neighborhood were a mix of rotted wood from the late 1800s and some aluminum replacement windows. Although most retained some functionality, many were crooked, leaky and inefficient, according to the owners, who purchased the two flat as an investment property.
The replacement windows fit into existing window frames without disturbing interior or exterior trim, thereby allowing the owners to preserve more of the historic home.



Coco Kelley Kitchen Remodel
Seattle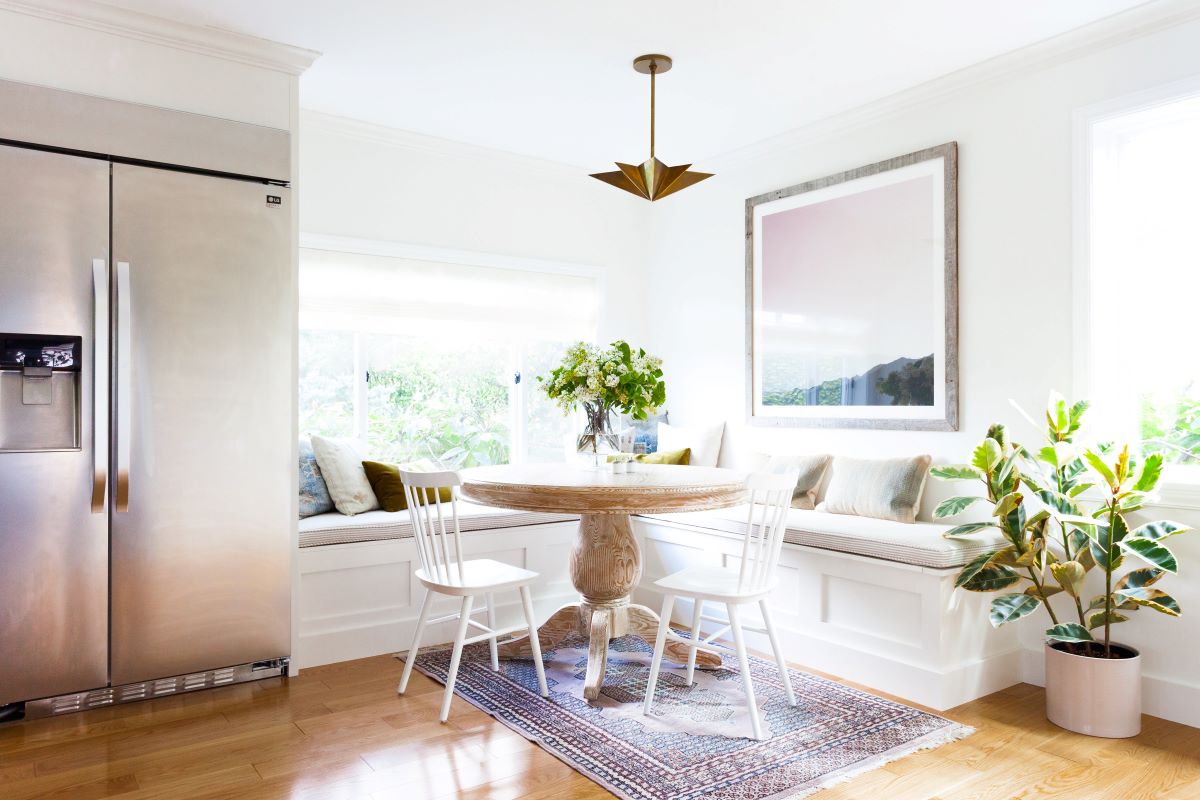 Window Product
Milgard's Ultra Series windows and Tuscany Style Double Sliding Door in White
The Project
The original slider windows in the kitchen were drafty and the sliders often stuck. The homeowners chose to not change the size or location of any of the windows and referred to Milgard's Architecture Guide to determine what windows would best fit with the Tudor-style home. White windows over the sink and in the breakfast nook match existing trim. The homeowner reports using less heat in the winter and increased sound abatement properties.



Grand Lakefront Home
Skaneateles, NY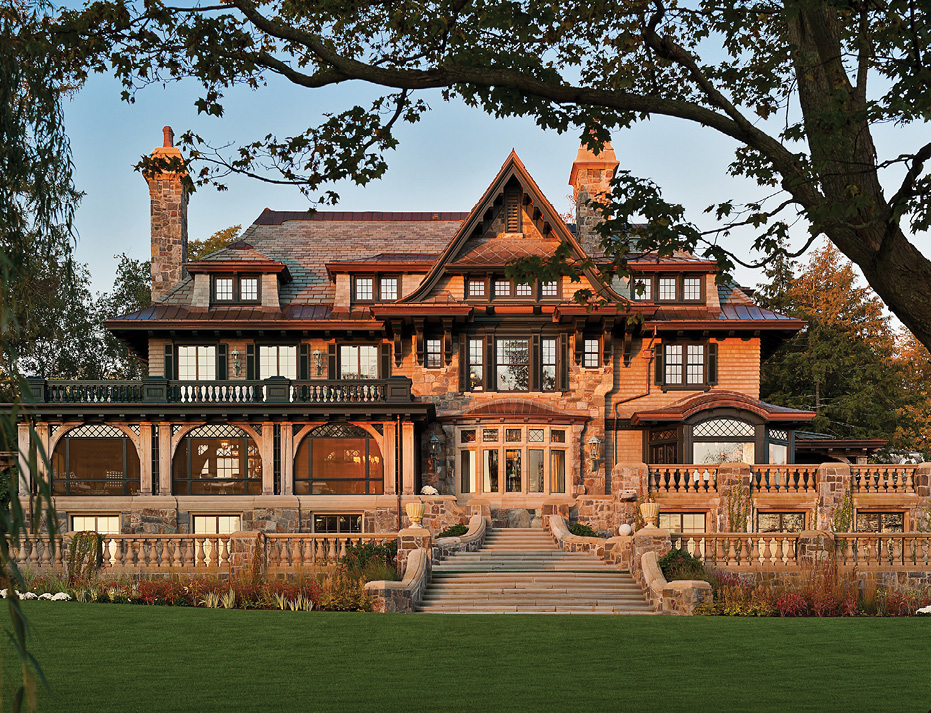 Project Team
Architect, Meyer & Meyer Inc., Boston
Window Product
Hope's Empire Bronze and Jamestown 175 Series windows, and Hope's Empire Bronze and Jamestown 175 Series doors
The Project
Built in the 1900s, this 14,000-square-foot, four-story waterfront mansion was redesigned and reconfigured into a residence in accordance with the late 19th-century Victorian architecture of its neighbors. This project involved installing 26 fixed solid bronze windows, including five curved windows, plus six operable windows and 11 pairs of swing doors.
The curved windows were curved to an inside radius of 203 3/8-inch and glazed with curved-on-plan glass to fit frames measuring 22 by 61 inches.
On Trending styles

We've seen a pretty significant increase in the demand for black products. That will continue to be a trend for the foreseeable future. We're also seeing bigger expanses of glass to let a lot more light in and increase in the overall size of the windows. People are spending more time at home and they want more from their house than they ever have before. People are prioritizing it in a way they hadn't in a while. That's a result of the pandemic. — Nicolle Picray, public relations and brand communications manager, Pella Corp.



Energy-efficient Replacement
Wheaton, IL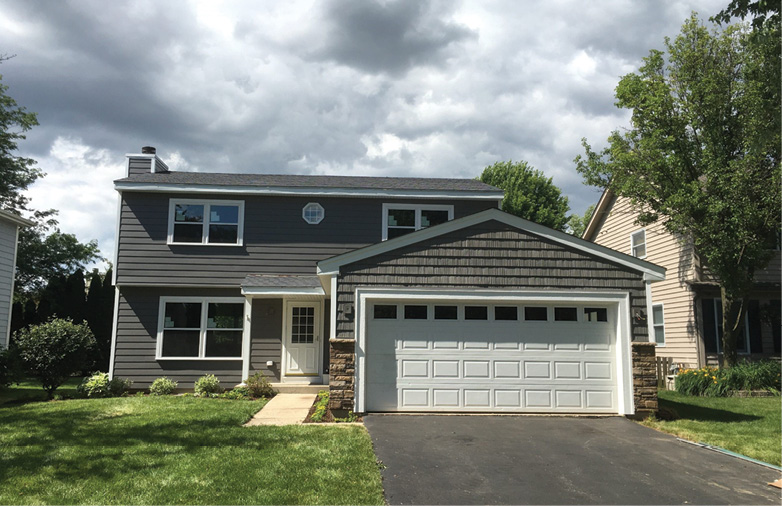 Project Team
Contractor, Fox Valley Unlimited
Window Product
Mezzo Full-frame Replacement System by Alside and Trimworks Decorative Accents
The Project
One of the homeowner's goals was to reduce energy use, which involved replacing the no-longer-operable 35-year-old wood frame windows. The replacement windows are designed to prevent water intrusion and air infiltration. In addition, the project incorporated wide window casings through the system's snap-fit decorative accents, which also provided a consistent aesthetic across all windows in the home. Replacing the siding yielded additional insulating properties.
On Lead times, Costs, Trends

Due to strong and unseasonal demand, window manufacturers are delivering product to dealers at lead times beyond the normal two to three weeks and availability of skilled labor to complete installations continues to be a challenge for the industry. With both factors at play and the subsequent impact on project schedules, window dealers are communicating to homeowners that their new windows won't be installed for three months or more.


Rising raw material, labor and transportation costs have resulted in inflationary increases on the total installed cost of replacement windows. We are seeing growing adoption of the full-frame replacement installation method, especially when replacing new construction vinyl windows.


The selection of exterior colors continues to expand, with black and other dark colors growing in popularity to meet current style and design trends of home exteriors. Interest is also growing for solid interior colors beyond the conventional woodgrain look. — Shawn Hardy, SVP, Integrated Products, Associated Materials



Whole house remodel
Dallas/Fort Worth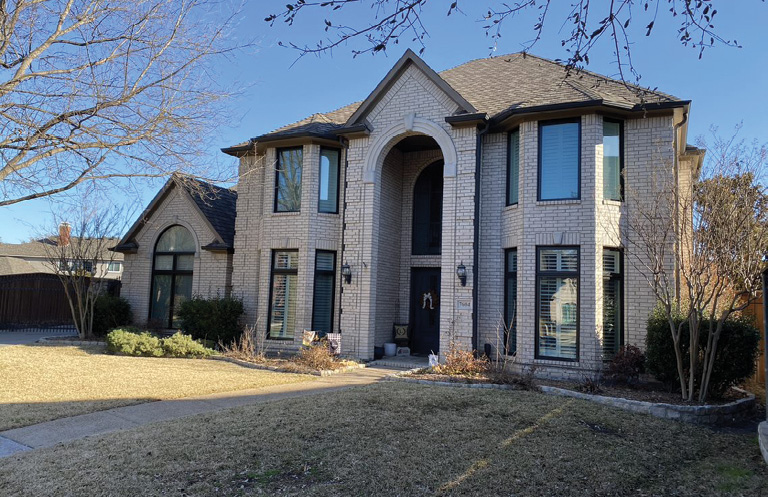 Project Team
Sales and installation, Advanced Window Systems
Window Product
Jeld-Wen Siteline Bronze Clad wood casement windows featuring AuraLast pine
The Project
The homeowners wanted to update their 20-year-old aluminum windows with windows that would fit their home's design and offer performance and longevity benefits. The bronze-clad windows met their aesthetic requirements and the treated wood is reported to be termite- and rot-resistant.
Shortly after installation this year, Texas experienced the Arctic weather conditions with below-freezing temperatures for a week. The homeowners report their home maintained a consistently more comfortable temperature than neighboring homes during that time.
 
On Florida Markets

PGT Innovations expects to see continued robust window and door replacement activity in the Florida markets, where our company's footprint is most prevalent. This expectation is due to a combination [of] factors, including the steadily growing volume of homeowners relocating to Florida from other parts of the country, continued spend in home upgrades and investment in incorporating indoor/outdoor living components into homes, the unique nature and benefits that impact-resistant windows and doors offer to homeowners and an increase in hurricane awareness. — Brent Boydston, senior vice president of corporate sales and innovation, PGT Innovations