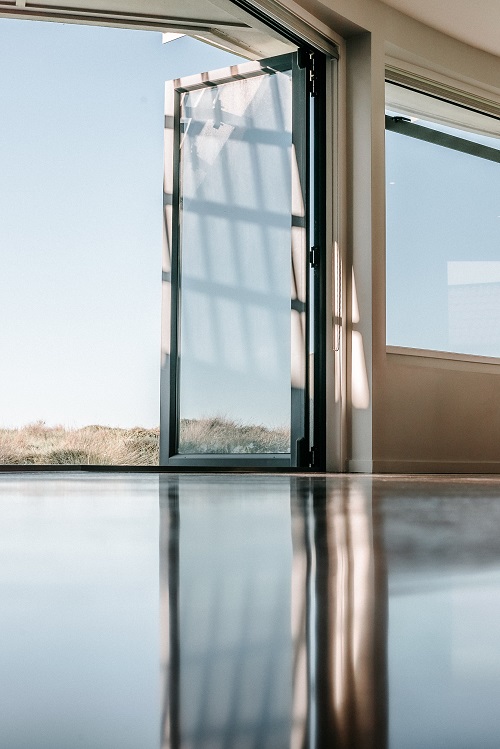 Big doors seem all the rage these days, with large residential doors offering a unique and often spectacular focal point to a home. However, with big doors, come big design problems. Here, I address several questions about big doors.  
Why worry about air?
The first major problem comes with large cavities, which are needed to accommodate hardware, locking mechanisms and handles. These large cavities are typically open to allow for easy manufacturing, but are prime areas for convection to occur. A lesson I learned along the way is that air is your best insulator until it isn't.
How does air affect energy performance?
Well, the cavities discussed above can create large air gaps, where the air acts like microcells. As the door experiences ethermal cycling, these microcells start to create convection cells. This movement of air acts as a thermal short circuit – essentially cancelling out any efforts to improve thermal performance. And the larger the pocket, the faster the air can spin, transferring more and more energy out of the door system.
Can we make the cavities smaller?
The answer might be to reduce the size of the cavities, but doing so can negatively impact your door from a structural standpoint. Doors featured at recent tradeshows can span 15 feet tall. Doors this big require hardware with a big footprint to maintain the structural integrity.
Can we make the metal thicker?
You wouldn't want these doors to bend, break, fall and/or hurt the consumer in any way. So, you may be tempted to increase the aluminum thickness to help improve structural performance, but the increase in metal can also negatively impact your door's thermal performance. Conduction, the second type of thermal transfer, will increase as more metal is added to the door, thereby further reducing your door's thermal performance. The battle is that the stronger you make it, the less thermally efficient it will be.
What else do we need to remember?
Another issue with creating a beefier door is the ease of use. The clientele who buy these beautiful doors should not have be built like a bodybuilder to operate them. The ease of door operation is another important consideration when designing a large door. Beefier doors may lead to overengineered sliding mechanisms or the installation of an automated opening system, which will increase the cost.
What are our three takeaways?
All of these factors impact the ability of a company to design a large door that is aesthetically beautiful, thermally efficient and structurally sound. The engineering of a door is holistic. It's like a three-way tug of war. Considering the three factors of structural rigidity, thermal performance and ease of operation – the bigger the door gets, the harder it is to get all these factors to line up perfectly. These are just some of the considerations that need to be considered when designing large doors.