How is Energy Performance in Windows Measured?
NFRC's standardized physical tests and simulation methods provide specific fenestration performance information
Window and doors are often the focal point of a home and provide daylight and wonderful views to the occupants. Unfortunately, these benefits also come at the cost of thermal performance. How can we help homeowners understand the thermal performance of their windows, doors and fenestration products? And how can we help them to best compare this information across different product types and manufacturers?
As we know, windows and doors are areas in a home where energy transfer occurs the most. In colder climates, the heat escapes to the exterior through conduction, convection, radiation and air leakage. In warmer climates, heat flows in the opposite direction.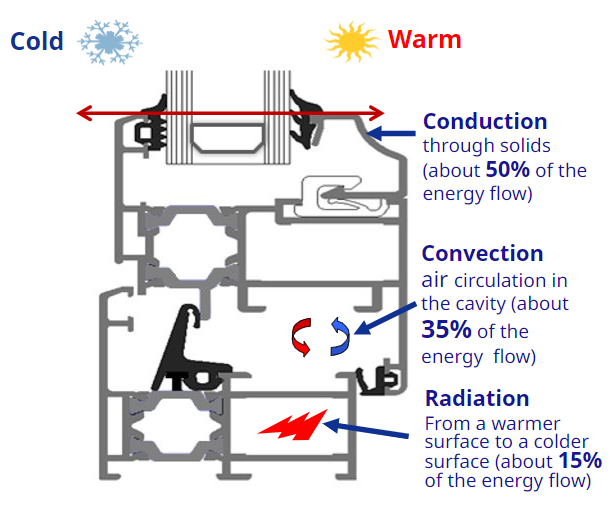 Influencing factors
Fenestration products experience energy transfer differently depending on many factors. The material type of a window or door, whether PVC, fiberglass or aluminum, can significantly affect how the product performs both thermally and structurally. Components – such as hardware, the insulating glass (IG) spacer, IG glass make-up, and the inclusion and size of frame thermal barrier materials – can also have a marked impact on thermal performance.
Everything else being equal, frame-to-glass area ratio also has an influence. Fenestration types with higher frame-to-glass area ratios, such as double-hung windows, tend to have higher thermal transmittance (U-factor) and lower solar heat gain coefficient (SHGC) when compared to types with lower frame-to-glass ratios, such as picture windows or patio doors).
Test standards
To help reduce the confusion and complexity for the consumer, the National Fenestration Rating Council has developed standardized physical tests and simulation methods to help provide the consumer with specific fenestration performance information required to make an informed purchase decision. Additionally, manufacturers can also use the NFRC test standards to ensure their products meet the ever-increasing thermal performance requirements of building energy codes local jurisdictions set.
NFRC certified simulators model window systems' thermal, solar and optical performance using software that calculates the two-dimensional energy transfer experienced under a set of specified environmental conditions. The data generated is used to calculate the overall fenestration assembly performance by area-weighted averaging of the performance of the center of glass, edge of glass and frame to provide a whole product rating.
The simulations are carried out using a standard fenestration size, which is dependent on window or door type, such as fixed window, double hung, casement, patio door, etc. This helps consumers make direct product-to-product performance comparisons within a fenestration type. Comparing performance between types, such as a fixed window to a patio door, is not recommended because of different sizes.
Through NFRC, the simulated values are also verified via physical testing of the products by a certified laboratory. This verified information is then reported on the standard labels homeowners see on doors and windows.
The validated, size-standardized U-factor, SHGC, visible light transmittance, air leakage and condensation resistance reported on the NFRC label provide consumers with all the pertinent information needed to make educated purchase decisions.