Do More with Less
How offering fewer product lines can bring value to your business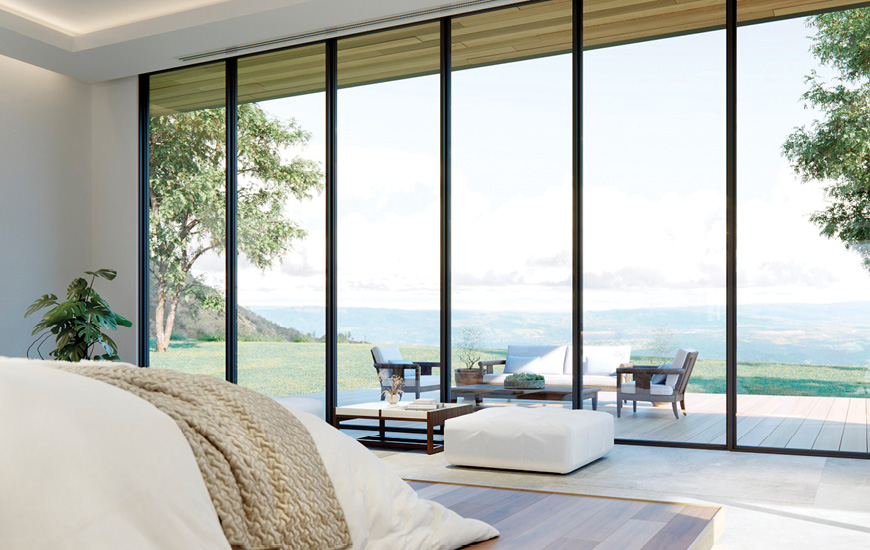 Above: Weather Shield Windows & Doors exited production and sales of vinyl windows and doors to focus on its VUE Collection all-aluminum product and pursue growth in the high-end market.
In a moment where manufacturers cite high demand, it might seem counterintuitive to consider discontinuing product lines. Sometimes, however, doing just that is the key to expanding and adding value to a business. 
For example, Weather Shield Windows & Doors in February announced its intent to exit production and sales of vinyl windows and doors, which includes eliminating its Visions brand of vinyl windows and doors, as part of a corporate initiative to focus on the luxury window and door market. "This decision is a natural next step in our strategy to position the business toward the premium segments of the market," explained Robert Foote, president of Weather Shield Windows & Doors, in a statement. "Our new VUE Collection all-aluminum product, along with our wood clad product lines, represent the product portfolio best-suited to pursue the growing high-end of the market."   
Climate Solutions Windows & Doors also opted to discontinue some lower-volume products. Aron Perelman, VP marketing and sales, explains the decision. "We discontinued all interior color options on our 9100 Classic series windows and only stock white vinyl. We're still painting the exterior in any color but not stocking laminates on any 9100 products. This allows us to focus on our flagship 8100 series products with a full color line, maintaining adequate material for order fulfillment. The 8100 line is faster to manufacture, better U-factor and has a custom designed low-profile sloped sill (completely sealed, no weep holes). These changes help maintain our four- to six-week lead time." 
 
Zach Williams, host of Venveo's Smarter Building Materials Marketing podcast, invited Jeremiah Hershberger, product manager for Key-Link Fencing & Railing, to discuss this topic during a podcast earlier this year, "Adapt or Die: How to Reevaluate your Building Materials Business Strategy."  
Define value  
Companies strive to create more value for customers, but value is defined by the withholder, says Hershberger. Further, the definition of value can vary depending on where a company is in the supply channel. Key-Link considers the distributor, dealer and homeowner, but ultimately targets the installer when considering what value is. "If an installer doesn't love to install it, he won't request that product anymore," he says. "That's what our litmus of pass-fail is."  
Education and resource allocation is another part of the value a company can give its clientele. Hershberger notes his business development team educates down channel to ease transactions. "The process, as well as the product, brings value," he says. 
Data insights 
Hershberger shares that Key-Link is discontinuing 44 percent of its product line this year and undergoing what he calls a "major overhaul" of its product lines. "There aren't many easy conversations," he says, "but the past two years have allowed us to sit down and look at the numbers behind it." For example, the company has about 10 infill options, yet only three accounted for 96 percent of all sales. The remaining four percent were being ordered in job lot, meaning from customers who didn't want stock and were shipping through a channel. "If our partners in the channel won't stock it," he queried, "how much of a demand is that product having in the marketplace?"  
Hershberger encourages companies to gain insights into product line data, including what products are the top movers and what categories customers are demanding. Key-Link's decision to discontinue products was born out of about a year of data analysis, he says. 
He also notes today's "unique environment" precipitated much of the decision to discontinue products. "We've had to consolidate resources as raw materials and supply chains are constrained and devote resources to top-moving product." 
Companies also must continually evolve. "We have some legacy SKUs that make us who we are today, but is it the right product for today's environment?" Hershberger asks. He recommends examining SKU rationalization and why a company sells what it sells. "If we don't change and adapt [to the current environment], we're going to die," he says. 
Product marketing and life cycle is another area to examine. Hershberger notes the cycle of product launch, implementation, growth, maturity and then potential decline. The question is how to move a product from the decline stage back to growth. He presents two options: tweak it and launch it back through, or discontinue it, take some time to reimagine it and relaunch it through the entire cycle. Key-Link is choosing the latter option for many of its discontinued products. "We know we need to market those products better and have a team that can market these down through the channel once we have the ability to relaunch those products," he says. 
Clear communications 
Hershberger urges companies to consider internal and external communications around business decisions and announcements. The internal team should be aware of any changes and armed with information in advance of the customer being notified. Key-Link shares information through typed letters, email and on its website and social media.  
Weather Shield shared the letter it sent to its customers from Todd Hallstrand, vice president of sales, explaining its decision to exit vinyl production. The letter cited increasing constraints from labor availability and supply chain disruptions, noting that "the time is right to focus our labor resources and capacity on the best business lines and products to ensure success in the future for Weather Shield." 
It continued, "The discontinuation of vinyl windows and doors will allow production employees to transition to clad production so that we can fully staff those lines for increased output. The market for wood window and door products remains exceptionally strong, and we already have adequate demand to support significantly expanded manufacturing capacity of these products." 
Weather Shield stopped accepting orders for its vinyl line in mid-May and expects winding down vinyl production will take several months as they work to fulfill the backlog of orders.  
The letter concluded with an open door to sales representatives so that customers can adjust volumes as needed and examine other product lines for their needs.  
Weather Shield, Climate Solutions and Key-Link are just some examples of companies consolidating and discontinuing products for the greater good of the company. "Change is tough, but if we don't embrace that change, we'll ultimately falter or fail," says Hershberger. "We all need to continue to move forward to get where we're going."