Training Investments
Installation and other skilled training programs could help contractors combat the skilled labor crisis
Since the Great Recession, homebuilders across the U.S. have struggled to come up with enough skilled workers to meet a growing demand for new housing. The National Association of Home Builders points to the labor shortage as one of the key factors that has kept home starts below levels needed to meet that demand.
Some indications are that the trend may be levelling off due to efforts by homebuilding associations and businesses, such as apprenticeship programs and trades education programs during and after high school. Some of these efforts to bring in thousands of new workers have started to pay off, but worker unavailability still ranks highest among the concerns of homebuilders. And, we are currently uncertain about how COVID-19 will further affect the shortage.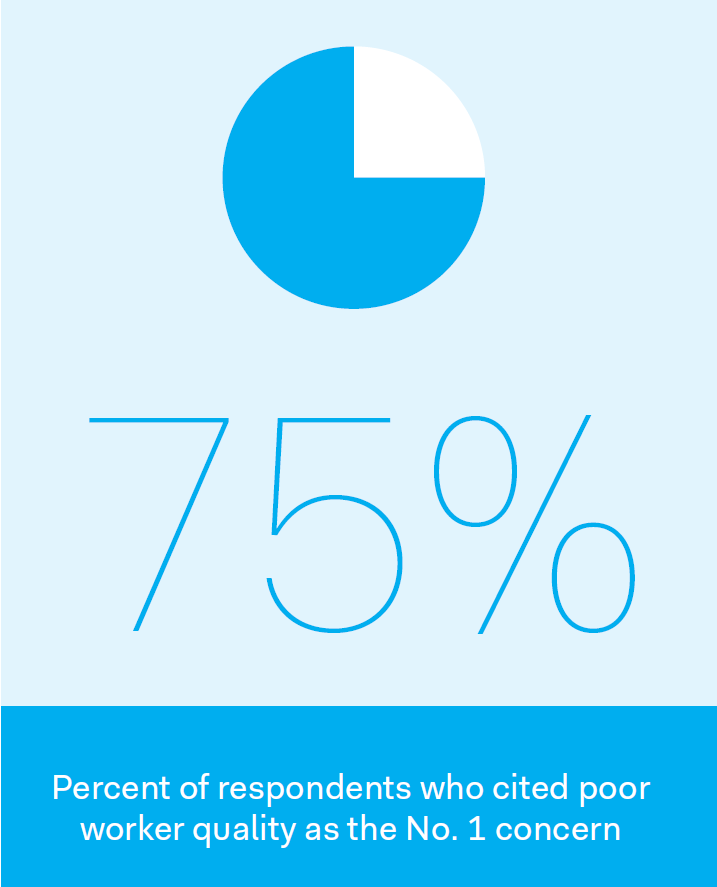 Using installers who already have training around general best practices for window and door installation can expedite and improve the proper application of the manufacturer's instructions.
Source: The 2020 Construction Hiring and Business Outlook survey from the Associated General Contractors of America and Sage
It is important to understand, though, that it's not just a matter of finding able-bodied workers; it's about finding experienced, skilled workers. According to a survey of nearly 1,000 contractors taken in late 2019 and sponsored by the Associated General Contractors of America, most construction companies indeed still rank labor shortage as a primary concern, but even more are worried about their ability to find qualified workers. While 72 percent of the respondents said that worker shortages were the top problem, 75 percent of respondents cited poor worker quality as the No. 1 concern.
Consequently, AGC reports that contractors are investing more in training programs for current and new workers; nearly one-third of survey respondents have increased funding for technical education programs and 29 percent have restructured programming for current skilled labor recruits.
The Fenestration and Glazing Industry Alliance has long emphasized the vital role of installation training in realizing the intended performance of fenestration products, while recognizing that installation quality is inherently variable, depending on the experience and expertise of the installer. The long-standing objective of providing proper training to this segment of the labor force, which is vital to the success of the fenestration industry, dovetails naturally into supporting development of qualified, skilled workers for companies to draw upon during this heightened, decade-long workforce shortage.
The industry in general—and FGIA in particular—has developed standards to help ensure proper installation. All are intended to supplement manufacturers' instructions and provide details for integrating the product with surrounding wall construction.
These are typically based on ASTM E2112, Standard Practice for Installation of Exterior Windows, Doors and Skylights, and expand from there to cover details of specific configurations of products and different wall configurations encountered in new construction or replacement/renovation. In addition, FGIA also provides installation practices specific to unit skylights, extreme wind/water conditions and punched openings in commercial buildings.
Although the primary source of installation guidance is the fenestration manufacturer's instructions, using installers who already have training around general best practices for window and door installation can expedite and improve the proper application of the manufacturer's instructions, particularly in cases where they are missing or vary in methods and thoroughness.
The need to fill in such gaps and provide more consistency among installers propelled development of InstallationMasters, an FGIA program developed by the American Architectural Manufacturers Association to train and certify residential and light commercial window and door installers. The overall goal of the program is to establish some consistency among installers to help them work more efficiently and uniformly, improve window and door installation practices and reduce the number of callbacks, claims and long-term legal liability that can result from improper installation.
In short, at least until longer-range training programs begin generating quantities of well-prepared, employment-ready workers, contractors must meet the challenge of bringing worker skills up to speed.