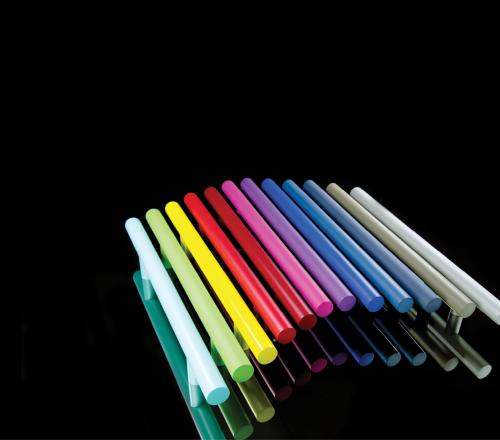 Inox's CeraMax Rainbeaux ceramic-coated, hand-finished door hardware is designed to resist deterioration from salt spray, oxidation, humidity and UV light.
Hardware manufacturers today are tasked with making products that not only appeal to myriad aesthetic styles, but also that function for the plethora of window and door products saturating the market. They play the dual role of workhorse and showstopper. Taking many forms, one thing is certain with fenestration hardware: one size no longer fits all. "Customization is a must-have in the current marketplace, and this is very exciting because it drives innovation and development of new products," says Matt Taylor, director of product development at Hoppe North America Inc.
Small but mighty 
"Right now, windows and doors are being specified as taller, wider and heavier," says Dan Gray, director of sales for North American group at Roto North America. Hardware needs to be more robust to support that trend. "The architectural community is specifying the sizes of units well above what has ever been seen previously," he says. With the strong remodeling market, owners often specify these more robust products fit into existing spaces. Hardware, in turn, must accommodate the heavier unit but without a bigger footprint. 
Taylor also observes hardware's evolution to keep pace with bigger, heavier products. Hoppe, for example, has multipoint locking hardware that uses new designs and material to support 300 percent more load than the designs and materials the company used just a few years ago.
These heavier products are often the result of laminated and triple-pane glass to support impact testing and more energy-efficient windows, says Aaron Mundt, director of product management – casement and commercial, at AmesburyTruth. The resulting heavier window sashes, paired with larger openings and narrower sightlines in general that help bring the outside in, "are requiring hardware and window systems that can handle these larger weights and more stringent air, water and structural requirements. We are seeing growth in high-performance hardware products that operate in a confined window cavity in response to these trends."
In some cases, hardware even needs to become more diminutive in size as patio door manufacturers maximize glass area, thereby reducing stile and rail sizes. "Larger, bulkier trim sets are going away," Taylor says. "There simply is no room to install these larger sets on narrow stile doors."
 
AmesburyTruth's contemporary hardware line, which includes the Sentry handle set, features straight line concepts and darker, sophisticated colors.
Design diversity
Sean DeForrest, national sales manager at Inox, draws comparisons between a wealthy economy and product selection. "The more wealth that's put in people's hands, the greater diversity of what they're looking for," he says, going on to discuss the "explosion" of designs. "It's not good enough to just have brushed chrome," he says. Consumers now want options for black, antique brass, silver pewter and more. 
One of Inox's bolder product lines, CeraMax Rainbeaux, for example, offers a rainbow of colors that can match almost any design aesthetic. Masterminded by Qianyan Cheng, Inox's co-founder/vice president of product development, DeForrest recalls when she first proposed the line, he likened it to clown colors. "She said, 'Sean, we're not going to call them clown colors,'" he recalls, so the name Rainbeaux was born. "It's a very appropriate way to name these and driven by her. She likes looking at the different esoteric types, whether it's design or color."  
Hoppe's Taylor says matte black is the hot finish, having gained significant market share since 2015. "Contemporary design is also here to stay," he reports. "Growth of these products has been steady for four to five years and is expected to continue."
AmesburyTruth's VP of Product Management, Michelle Nissen, also sees darker finishes, such as black, bronze and oil rubbed bronze with satin nickel accents, dominating, especially on what she asserts are the most popular styles of contemporary, transitional and farmhouse. "Hardware will always play a key role in any window or door design," she says. 
Gray discusses modern and contemporary hardware. "Modern, we believe, is minimalist," he says, and often includes concealed hardware and flush handles. Contemporary, on the other hand, is more prominent, with a lot of clean right angles and statement pieces. "We need to keep pace with trends of aesthetic designs," Gray says, "not just develop components to support more weight and larger sizes."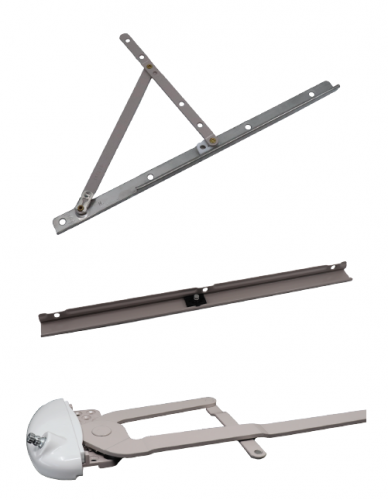 Right: Roto's heavy-duty casement hardware package, which includes an operator, set of hinges and operating track, could allow, for example, a 200-pound window to be retrofitted into the same opening where a window of only 175 pounds previously existed.
Door growth
According to the most recent Ducker report, sliding and hinged patio doors grew at twice the rate of windows from 2017 to 2018. Gray anticipates manufacturers will further explore and innovate in the door market. "It's just amazing what we're seeing with doors and their growth of size and the style we're seeing," he says.
Taylor says manufacturers' door portfolios have grown in the past decade and Hoppe's door hardware portfolio has grown accordingly. He doesn't see this trend slowing down. "Residential pivot doors, for example, appear to be the next step in the new door trend," he predicts. 
He also shares the emerging trend for large pull handles on residential entry doors, which often are used on large pivot doors. Flush hardware remains popular thanks to bifold, sliding and other multi-panel opening doors.
One of Inox's most popular product lines right now, says DeForrest, is hardware for the booming sliding door market. "You see a huge proliferation of barn door systems and pocket doors now," he says, which save space. These heavier doors require bigger pulls and other hardware, he says, that can be grasped and pulled more easily, as well as track systems that can accommodate the big sizes.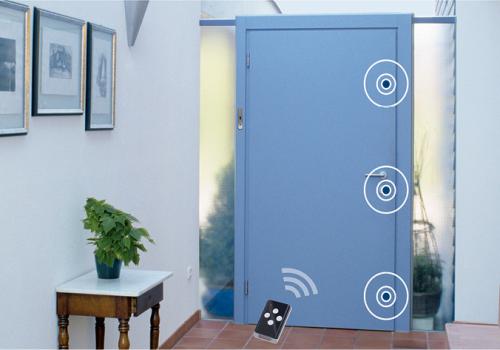 Hoppe's motor-driven hardware system can be integrated with everything from simple access keypads to whole-home automation systems.
Smart hardware
One of what Roto's Gray refers to as the more interesting product development curves is that of technology, wherein hardware can operate a door or window or act as a sensor so the homeowner can check via an app if a window or door is open, closed, locked or unlocked. He references Andersen's smart home platform for its windows and doors as a market leader in the space. "It's not untypical for one of the industry giants to set the trend in that regard," he says. "We're going to continue to see a proliferation of smart home products enter the market for windows and especially entry doors," he predicts.
Fabricators largely drive smart technology, Gray explains. He says that very few hardware manufacturers bring smart products to the market as a mass product. The reasons are twofold. One, according to Gray, many hardware applications are specific to a window manufacturer's profile system, so smart variations could be cost-prohibitive for the supplier. Two, the smart hardware could be cost-prohibitive for the end consumer. Therefore, "It's more so partnering with a fabricator to create a smart technology platform with them," he says.
Hoppe has offered an automated multipoint lock since 2014 and continues to explore the area with a dedicated team for research and development of what Taylor calls "mechatronic" hardware products.
Meanwhile, AmesburyTruth continues to supply motorized products for skylights and casements and is integrating evolving technology in some of its new designs, Mundt shares. The Precept Touch, for example, uses Bluetooth technology so the user can operate the lock through their smartphone or tablet using an online app. "This technology is expected to grow and expand into other product categories," he says. 
Tariffs Pose Cost Challenges
Among the biggest challenges facing manufacturers today are the tariffs on steel and aluminum imports. "Virtually everybody has a hand in China," says Gray. "It adds a complexity to the customer supply relationship that really is a distraction."
Ryan Chapman, president of GPI Millworks, agrees, stating that the tariffs present a challenge with pricing weather stripping, PVC products and some hardware. "The consumer will end up paying for it," he says. "It's been a bit of a headache since we're trying to keep our costs in line with the market and stay competitive." 
Certainly the diverse product selection DeForrest speaks to involves cost challenges when it comes to balancing cost with what he calls exotic designs. "Invariably they're at odds with each other," he says. Inox, he says, navigates those waters by looking at base materials and different methodologies in coatings. For example, if a company asks for brass hardware, rather than making a solid brass piece, it often is more cost-effective to use a less expensive material such as stainless steel and coat it to resemble brass.